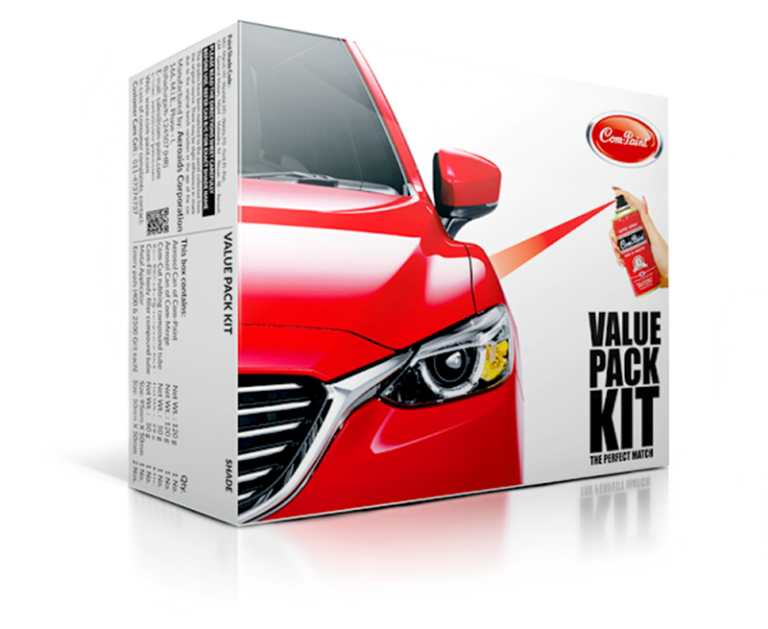 Our prime product, Value Pack Kit for Cars, is available in multiple shades specific to various Car brands, models and their respective color variants. It includes Custom Matched Spray Paint and all the things which you might require to do a quality touchup job.
* AT THE CHECKOUT PAGE, Please Select Color exactly as mentioned on the RC (Registration Certificate) of your Vehicle
Its always good to read a few reviews from customers who have used the product
"Your product is fantastic and gave desired results. I am fully satisfied and thankful for the same. I have no hesitation in grading your product as five-star"
"Colour 100% matches well with the car and it was a great experience. Will get more packs in future. One must needs to apply it properly specially in case of Metallic Colors"
"I am really impressed with your product & i want to congratulate each and every person who is affiliated with com paint for their hard work & for making such wonderful products"
Can of Com-Paint Value Pack Kit of Selected Color (120 gm)
Can of Com-Merge, Finishing Solvent Spray (120 gm)
Tube of Com-Cut (50 gm)
Tube of Com-Fill (50 gm)
Com-Paint Metal Applicator
Com-Paint Emery Paper of 400 and 2500 Grits
 A small bottle of Cleaning Thinner
Frequently Asked Questions
Will I be able to do it myself?
Yes, with a littel bit of skill and following our our detailed instructions, you will be able to get excellent results! Com-Paint always believes in Do-IT-Yourself products and you don't need to spend hefty amount for minor jobs.
Will the Color Match 100%?
Yes, if you do i the right way! Since, Com-Paint is custom made as per your Car's Make, Model, Year and Shade there should not be any concerns if it is done properly. However our team is right there if you face any issues.
What if something goes wrong?
Don't Worry, we provide a small cleaning thinner bottle in the kit, and if you do it wrong the first time, you can simply remove our paint and re-touchup. Moreover, you can locally arrange more thinner to remove the paint if done incorrectly. 
What if the color doesn't match?
We always recommend doing the Color Test as soon as you receive the Kit. In case, you feel the color is not matching, send us the images and if required, we will send replacement paint Can free of cost.
Grab a pack and Do-It-Yourself today!